Trauma Training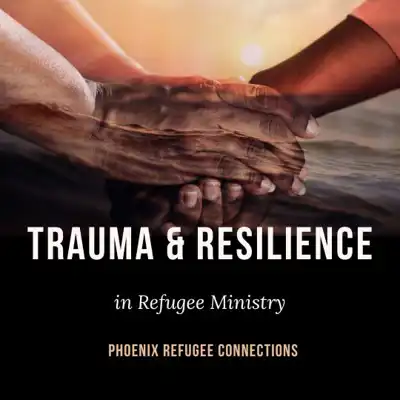 Equipping you to love your refugee neighbors well while also caring for yourself.
GoTEN is promoting this event that is organized by Phoenix Refugee Connections.
SUMMARY
Trauma for our refugee neighbors is not limited to experiences in their home countries or in a refugee camp (or secondary location). It continues as they are resettling into their new home here in metro Phoenix. How can we best walk in relationship with our refugee neighbors and friends as they do the hard work of integrating into American society? How can we care for ourselves while also caring for others?
Interact with expert trainers in trauma and resilience, leaders in local refugee communities, a health specialist, and your peers doing local refugee ministry in various ways.
Leave with more tools in your belt, refreshed, encouraged, and knowing you're not alone!
-----------------------------------------
AGENDA
Interactive session with Rev. Dr. Sanghoon Yoo: How does trauma affect the brain, decision making, behavior, and more? How can I help my refugee friends heal and grow after/during trauma? How can I build healthy relationships that promote safety and healing?
Panel discussion with local refugee leaders: What are you seeing? How is your community already helping people live healthy, happy lives here in Phoenix? How can we follow and support you?
Lunch from refugee-owned Casa de Falafel Restaurant
Interactive session with Heather Hicks: What does soul care look like for me? How can I identify and accept my limitations, generously giving my time and energy to others while also caring for myself and trusting God? Learn practical tools.
Arizona Refugee Resettlement Program Specialist: What resources are available for people who need professional help?
Networking with like-minded neighbors doing refugee ministry in a variety of ways
-----------------------------------------
About the facilitators:
Rev. Dr. Sanghoon Yoo founded the Arizona Trauma-Informed Faith Coalition and has led ministries and social services at Arizona State University and the Phoenix metropolitan area for over two decades. He holds a master's degree in Social Work and a Doctor of Ministry degree. He is certified in spiritual direction, ACEs (adverse childhood experiences), trauma-informed care, historical trauma, and community resilience, among other certifications.
Heather Hicks is a certified Trauma and Resilience Coach with the Arizona Trauma Institute, certified Leadership Coach with Coaching Mission International, and certified facilitator of Advanced Cultural Intelligence. She holds a master's degree in Biblical Counseling and has extensive cross-cultural experience, with over 25 years' experience equipping and supporting Christians in cross-cultural ministry in demanding contexts. Currently, she serves ministry leaders across AZ and beyond as Associate Director of Venture 1:9, building ministry and leadership resilience and sustainability.
Event Registration
---